Kurt Kamm FIREFIGHTER MYSTERY NOVELS  
ONE FOOT IN THE BLACK – Wildland Fire
RED FLAG WARNING – Serial Arson
CODE BLOOD – Paramedic Thriller
HAZARDOUS MATERIAL – Meth Lab Mystery

TUNNEL VISIONS – Urban Search and Rescue
PICTURES AND WORDS OF FIREFIGHTERS IN ACTION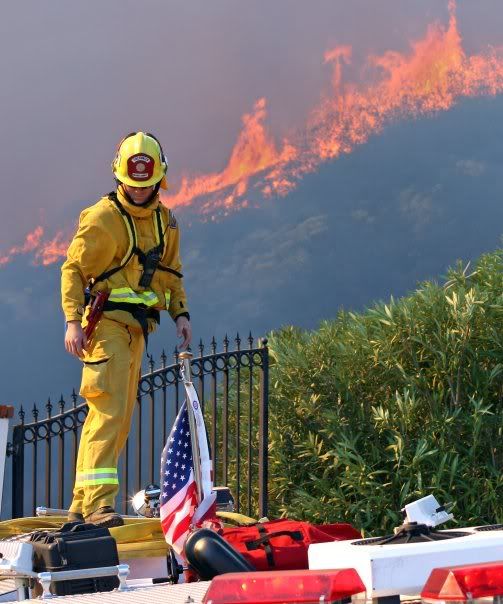 2
3
.
.
BRINGING HOME FALLEN BROTHERS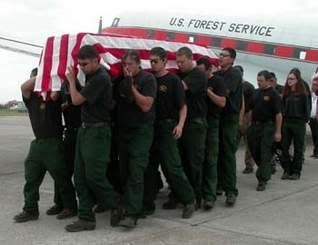 8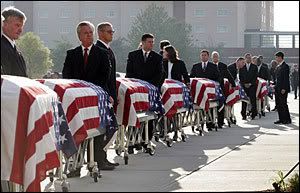 9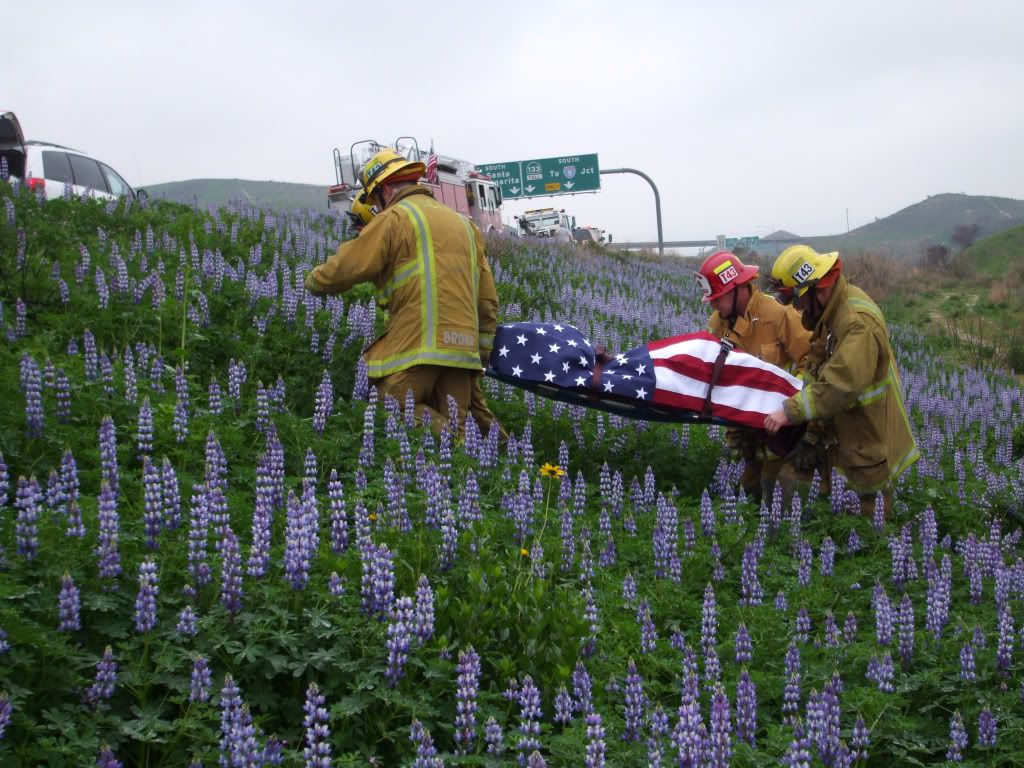 10
.
Here is to the past. I toast to you who are gone. Everything has changed since you left. Would you be proud of me today or ashamed? I wonder. You always expected the best from me and I have tried to do that. I always admired you and looked to you for guidance. Without you in my life I wander for years in darkness placing blame instead of thanking him that you were no longer in pain. I wish you was still here cause I wonder what you would say to me. I miss you warming smile and your loving heart. I didn't get to see you but for short few years of my life. Yet when I think and talk of you I remember the good things. You always had a smile and I never once saw you cry. Even when the time I saw you, you laughed and it made all of us happy to see that before your last breathes. You are my hero in life you gave your all in everything no matter what it was. You lived a long and amazing life. In a way I am pleased that you are at rest now no longer in pain no longer worrying about things in this world. I hope to see one day. In fact I look forward to it and when I do I'll give you hug cause it may be many more years before we see each other again. Until then I will keep you in my heart and remember as you were. (FIREFIGHTER'S WORDS – Blog Entry)
.
.
.
STRUCTURE PROTECTION
11
.
I have been a volunteer firefighter in Baltimore County, MD for 6 years, but I grew up around fire fighting because my father was a firefighter for over 25 years. Not many people appreciate the job that we do, and it was a sad scene when the only thing that got our jobs noticed was the events of 9-11. Sine then, there have been a few documentaries on our job, but it is still not enough to keep people donating to their local volunteer fire departments. Most of the United States is covered by volunteer firefighters. This is starting to change because most volunteers have to work to support their families and the companies they are working for no longer allow them to leave to serve their communities. Hopefully people will open their eyes to our job, and realize that there is no better cause then to support the people who will be there for them in their time of need…no matter what.
(FIREFIGHTER'S WORDS – Blog Entry)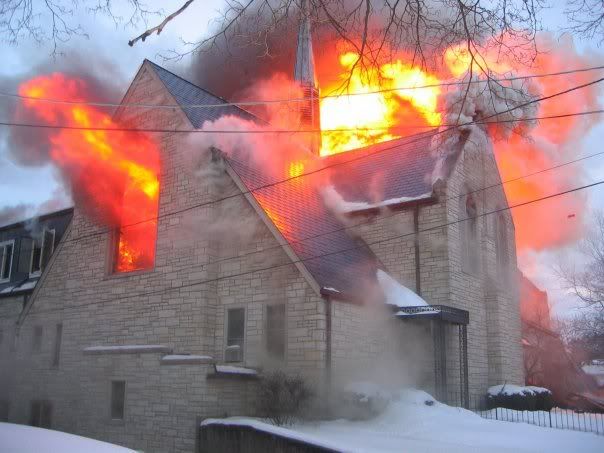 12
From Bill Reynolds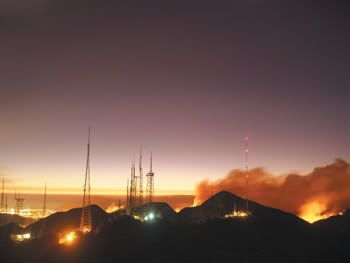 13
We saved a repeater tower (out of dozens in my career) one time at St Johns Mountain on the Mendocino. It was a three crew race to the top of the mtn all night long, with a long wait for water and an air show at the top in the morning. I remember when the bull dozers stopped and 66 guys all walked right around it and went to town. That was a fun night!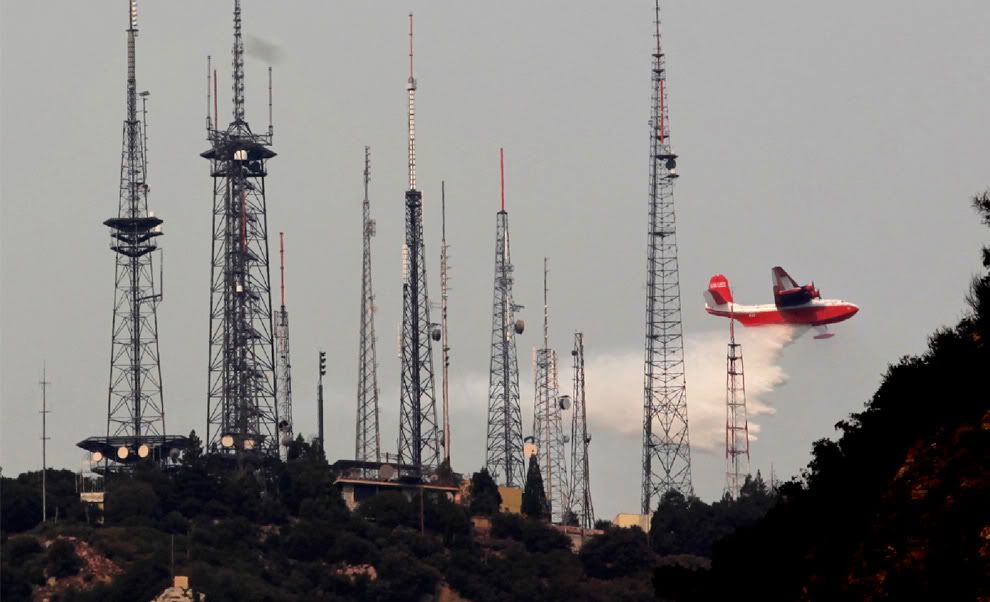 14
15
.
The day starts at 0800 – roll call, discuss what has happened the last two days, work to be done today. 0907 – reported fire, on scene with working fire, 2 story brick residential fire in 2nd floor bedroom. Sent men to open roof, 1 man for forced entry, myself and FF Torres to search 2nd floor. salvage cover thrown on first floor by second truck company. Primary, secondary and final searches completed and negative. Hole in roof over fire room and hallway, fire extinguished,
Everyone comes home. 10 runs later waiting for next hit. We have 12 more hours of work and a lot can happen. (From Firefighter's words-Blog)
17
From Kirby Goodwin
.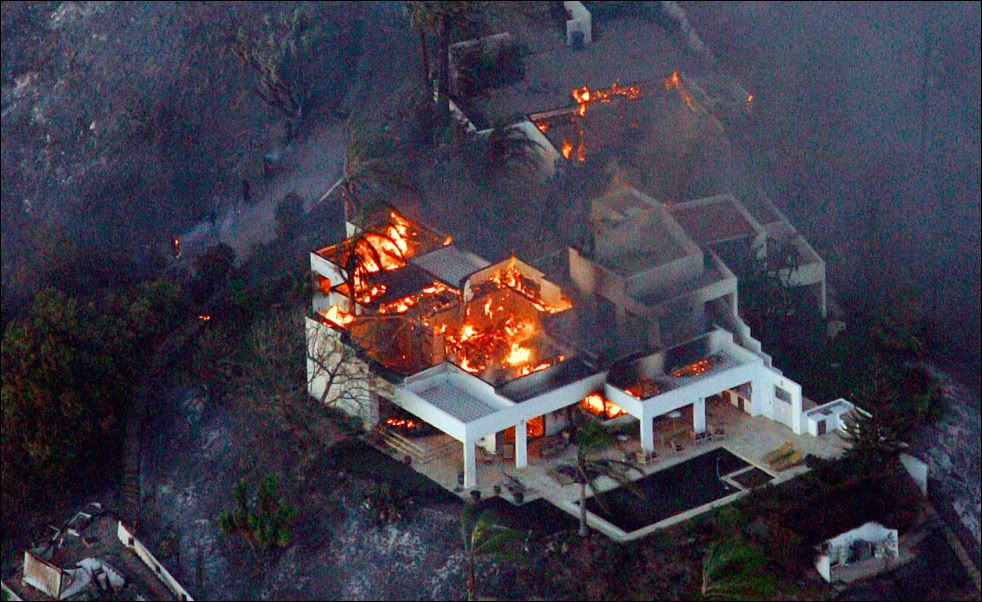 18
.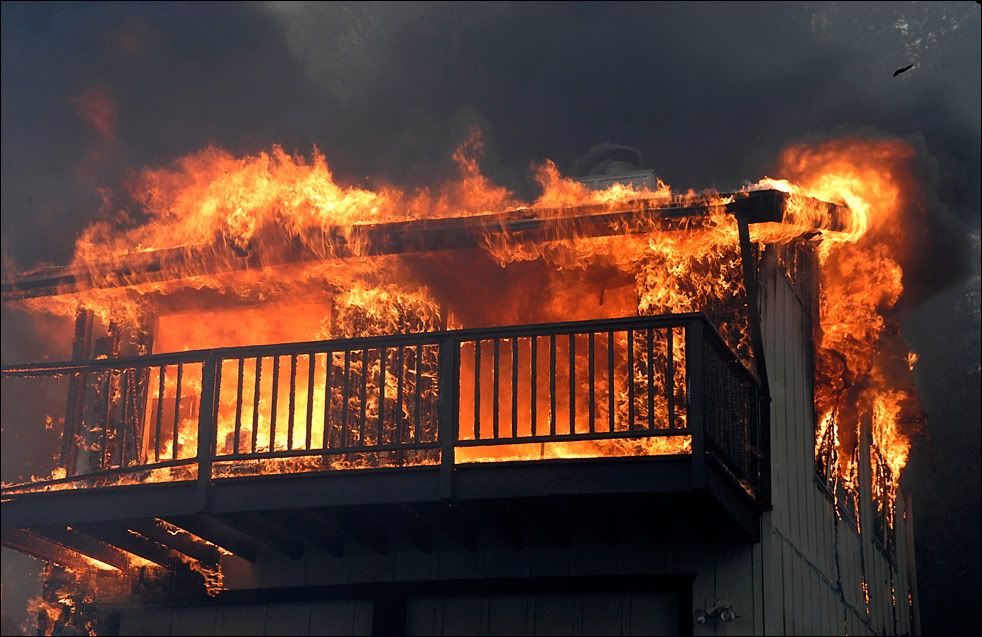 19
I have been a firefighter for 5 years and in those 5 years, I have learned a whole lot. Firefighting isn't for everyone, but for the ones called to do it, they love it. It has it's trying times, but on the other hand it has times that make you extremely happy to be able to do what you do. I've been on calls where everything went well and everyone was happy, and I've been on calls where it took awhile to get over what I had witnessed, but what every firefighter needs to remember is that they are in a job to help other people, and sometimes that whether the outcome is good or bad, they did their part and that's all we can do. To all the firefighters out there I say keep on keepin on!!
(FIREFIGHTER'S WORDS – Blog Entry)
20
21
"Don't try and change me, I live for the 'road', the adrenalin, saving a life, and the brotherhood bond you cannot experience anywhere else. If you love me, you won't want me to leave my job… Taking that away from me, is taking away my life style, my love, my passion."
.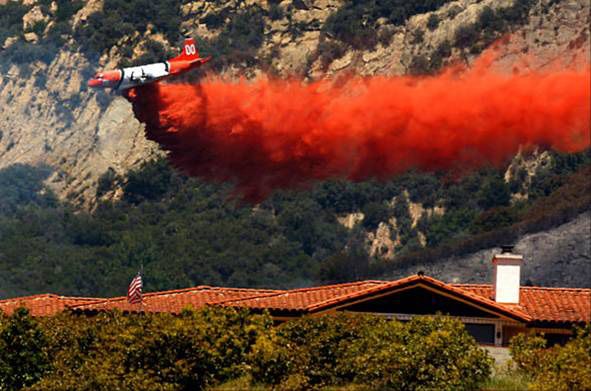 23
I rarely see or hear praise to those that deserve to be heroes. Those that take time out of their lives to help someone in need. I help people because I chose to. Those that don't have to, but do help. Those people are my heroes. That in my mind makes a hero. People that stop to help that old lady cross the road, those that are late for a meeting but see another in need AND THEY STOP TO HELP! They are my heros. I get praise because I am a fireman. but I chose to be a fireman. I have been one since I was eighteen. Enough about me. This is to all those that chose to do the right thing for salvation of others (FIREFIGHTER'S WORDS – Blog Entry)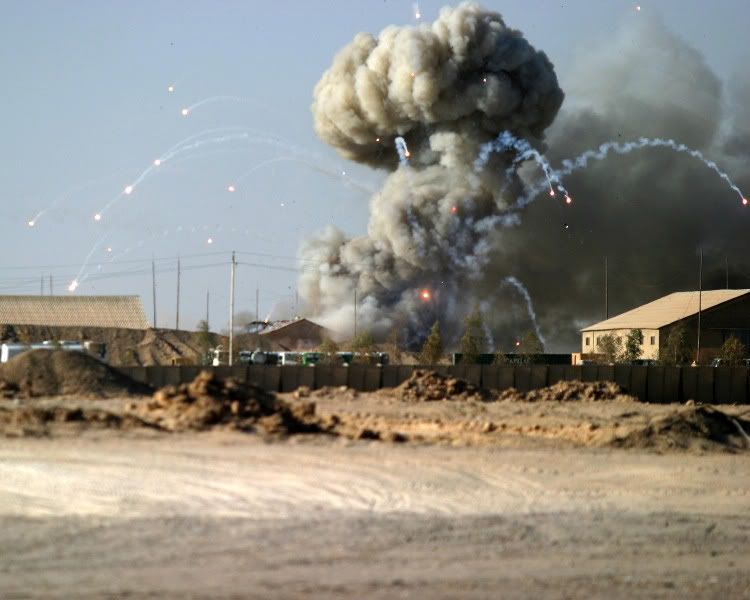 Ammo Dump fire and explosion in Iraq after mortar attack
From Marc Davis
.
WILDLAND FIRE
Fighting a wildland fire isn't rocket science – it's much harder
i love these things. been at it for 15 years and although sometimes it truly is a grind. i would have it no other way! been filling with shot crew for the last 10 years and although i am the oldest pup in the litter them boys keep me young.
In 2009, California had 63 wildfires which burned more than 336,020 acres (525 sq. mi.) between July and November The Station Fire, north of Los Angeles, was the largest and deadliest of these wildfires, burning 160,577 acres (251 sq mi) and killing two firefighters. Here are two photos and comments from someone who visited the burn area.
These burnt out landscapes are often referred to as "moonscapes" and aptly so. They feel and look otherworldly, and when I went back to shoot at night with a full moon rising in the east, it was a very eerie feeling. I drove about ten miles into the Angeles NF and when I got out of the car the first thing I noticed was the silence. A living forest is normally a very busy place, and if you stop and listen there are a multitude of noises emanating from its depths. A dead forest is silent and still, as if a vacuum had sucked all the life and sounds right out of it. When you stand in place long enough, you slowly start to hear two things: the distant rumbling of tiny landslides as small rocks gently roll down hillsides because there is no brush to hold them in place; and the crackling of charred trees and branches, like a chorus of popcorn popping, surrounding you, 360 degrees. But there is no life anywhere, for miles and miles and miles.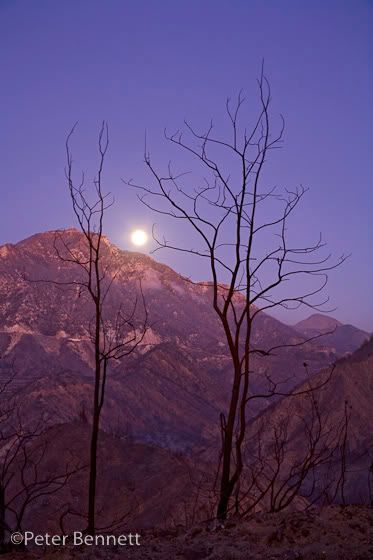 http://citizenoftheplanet.com/2010/04/the-station-fire/
"The most important person on the fire is the cook and time lady…and it aint over till the fat lady demobs ya…"
30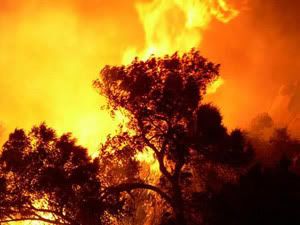 31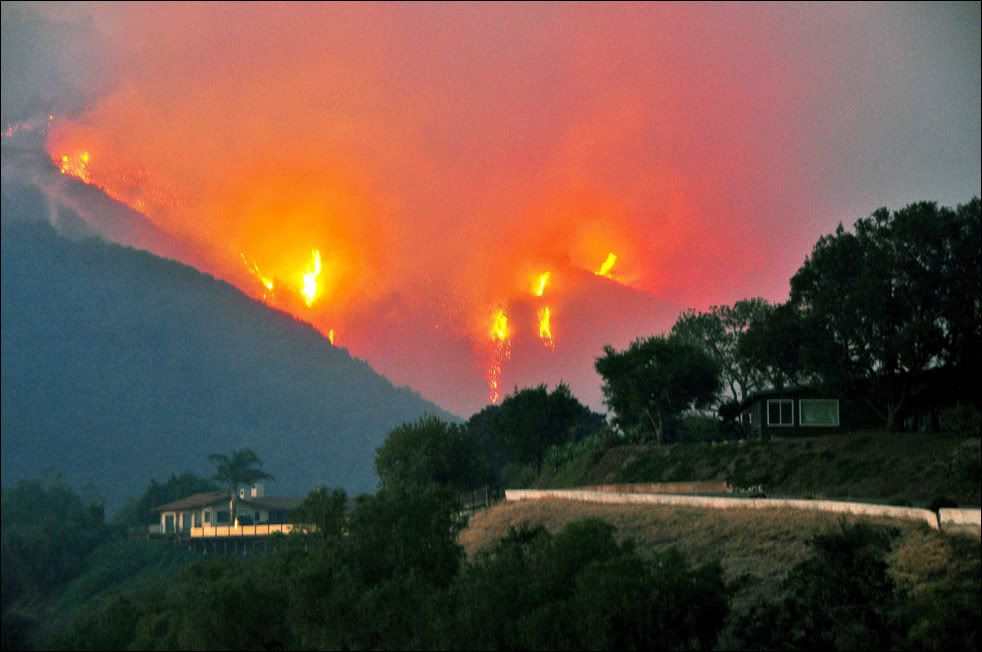 32
33
.
Here's what we all need to know and realize about wildland firefighting: FIRE IS DANGEROUS. It always has been and always will be. Mistakes, missteps, random rocks and trees, or just your average bad day at this job are potentially fatal. Unless you are above having a bad day or making a wrong decision, you are walking into a potentially fatal environment on every wildland fire call. You are FOOLISH TO think it can't happen to you or the folks who work for you…
.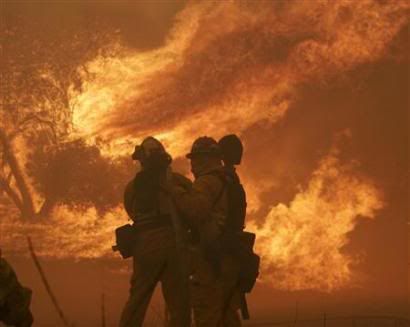 35 Gene Blevins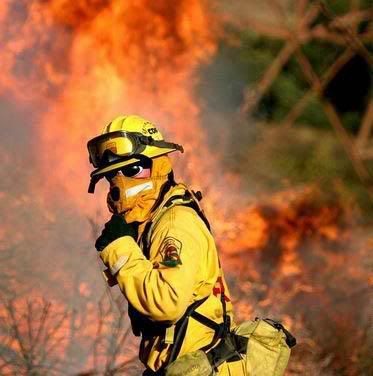 36
"If our dept was to get a fire like that we would all shit a brick. we usually get just brush fires that get out of control"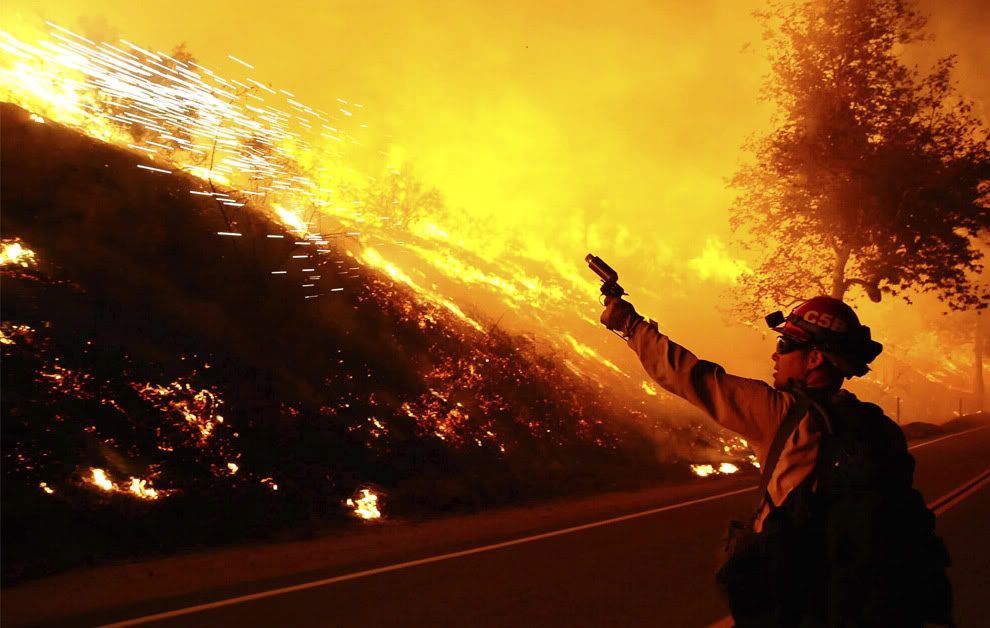 40 Gene Blevins
41  Gene Blevins
When the orange of the October sunset stretches from the horizon and fades somewhere into the distant clouds of gray, I long for the fireline, for the organized chaos that soothes my busy mind, where life somehow makes sense. There we settle into a rhythm of duty, bound together by honor, sweat and humility. My life is no longer my own. I have given it to those who came before me—who fought courageously and died; and I am bound by this brotherhood. It is in this understanding that we fight fire together.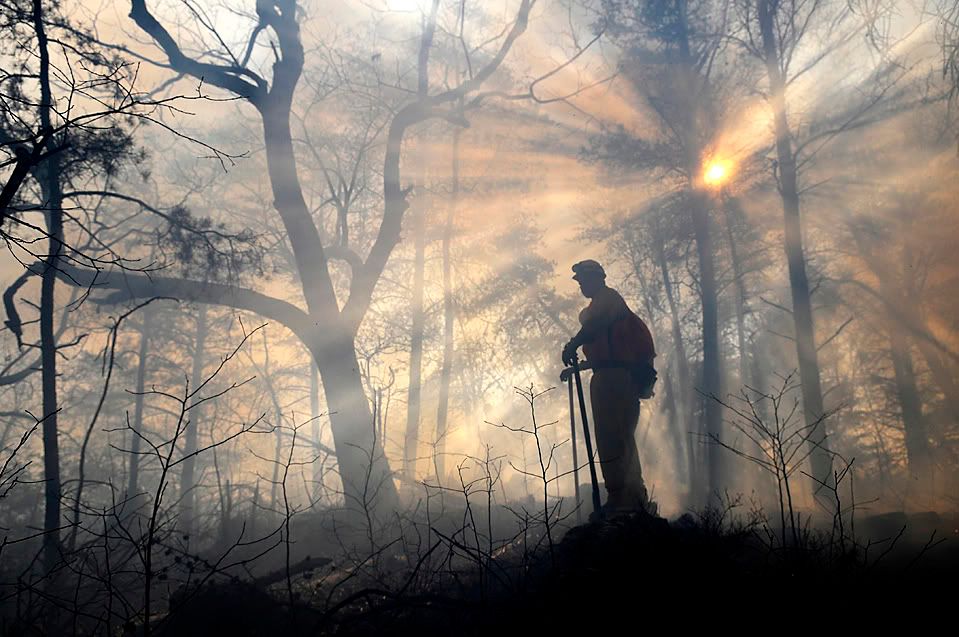 42
.
Eight hours into the state's worst wildfire in 30 years, with visibility next to nothing and flames shooting up pine trees, Wayne Springs and Terry Cook manned bulldozers on the fire's left flank. The smoke was bad enough, but now it was getting dark. They were working in a muddy area around a power pole when Springs' bulldozer got stuck. Cook came around to help pull him out, but she got stuck too. The wind shifted. Suddenly, instead of being behind the fire, they were in its path.
The fire was like a giant tumbleweed, throwing off embers into the distance as the mass of flames rolled toward them.
They crouched in the bog, water up to their knees, and put their fire shelters over their heads as the fire roared closer. Some firefighters have panicked and run as the fire passes over, dying in the process. Springs and Cook fought the urge to bolt as the 10-story-high flames neared. They heard bay bushes pop all around them, the waxy leaves fueling the fire with a substance as flammable as petroleum.
Description of the 2009 Grand Strand, SC Fire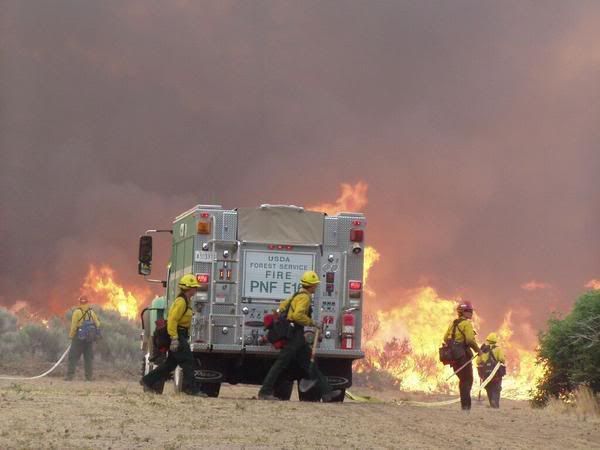 44
.
.
.
HOTSHOT CREWS
.
The best days of my life have been spent on the line with fellow Hot Shots spiked out on nameless ridge lines waiting for cubies, or down in a canyon sawing like a mad man. To every man woman and FNG I ever worked with, Happy Holidays! Matt Root
.

45
.
The line was 5.8 miles long, with a total elevation gain of just over three thousand feet. The specs were twenty foot cut, five foot scrape. We had ten three man saw teams working on the cut and ten guys pulling the scrape. It was between 105 and 118 degrees for the seven days that we were up there. I was drinking between three and four gallons of water a day.
Nobody ever sees the hotshots because they are always out on the fireline. Hotshots show up to a fire and go to the fireline. They cut line for 16 hours and then lay down to sleep for six to seven right there on the line, no going back to fire camp, no showers, hell sometimes there isn't much food either. They do this for 21 days, or until the fire is completely lined, whatever comes first. Then they go home for two days, and then back out again. You do this for six to seven months all over the country.
Your girlfriend leaves you for some office jockey, your wife cheats on you with some suit and tie wearing guy that works a nine to five and drives a convertible sports car. We give up seven months of our lives every year, not for the 26 thousand a year salary, but for the pride, the ability to look another man in the eye and know that you have done your part to make this world a better place. If you ever go to a fire camp you will know when a hotshot crew walks through. People move out of the way, some look in awe, others are afraid to make eye contact, but either way there is respect given.
(FIREFIGHTER'S WORDS – Blog Entry)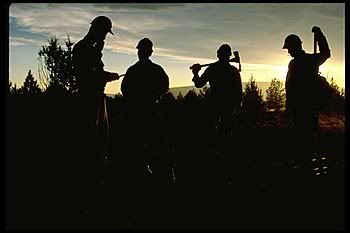 47
As it nears, a wildfire creates much the same sensation as an approaching train. First you hear-almost feel- a distinct rumble. Puffs of black smoke appear in the columns of gray – a sign of greater burning intensity – and the sound of the fire increases. Then whiffs of air hit the back of you neck as you face the fire, evidence that the fire is creating its own wind, sucking oxygen from around the ground to sustain itself, then blowing it thousands of feet into the air in a boiling column of smoke. As the inferno nears, it roars like a jet engine as the blaze sucks more and more in. You can feel the heat and see the flames half a mile away. Thick smoke occasional obscures the blaze and noise dissipates for a moment as the flames gasp momentarily for air before making the next leap. (Billings Gazette – Yellowstone Fire of 1988)
Ok, first time I saw a firewhirl was at the Fort Robinson State Park fire. I was seventeen and lived about 18 miles south of Ft Rob. My Dad is a volunteer firefighter also. the first day of the fire, we were on what they call Old Smiley Canyon road. It was just getting dark, as we headed for the staging area at the top of the canyon the sun was, as they say, blood red and going down. We saw what we thought was a pine tree topping out, but like in your picture it was swirling. It shot into the air a long ways. One of the scariest things I have seen. That was a long night. The second time was on the Sioux Complex Fires two years ago. We were back burning on the north side, when we saw it go up toward the center of the fire from us. We got distracted because our backburn hit a slash pile about the time the Governor of Nebraska was flying over in a helicopter. I had a hard time convincing one of the firefighters not to moon the Governor, due to the lack of ground support, resources and communications.
.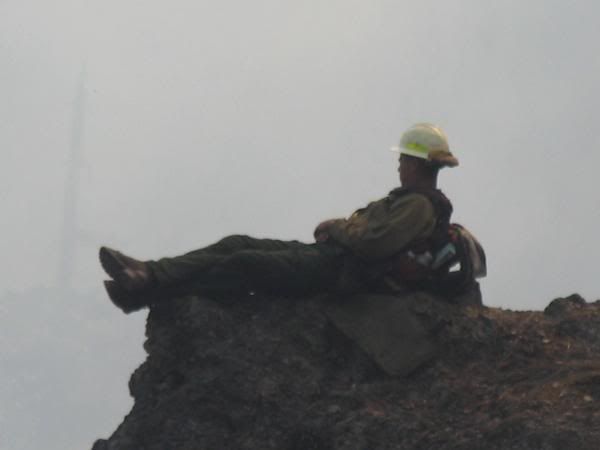 50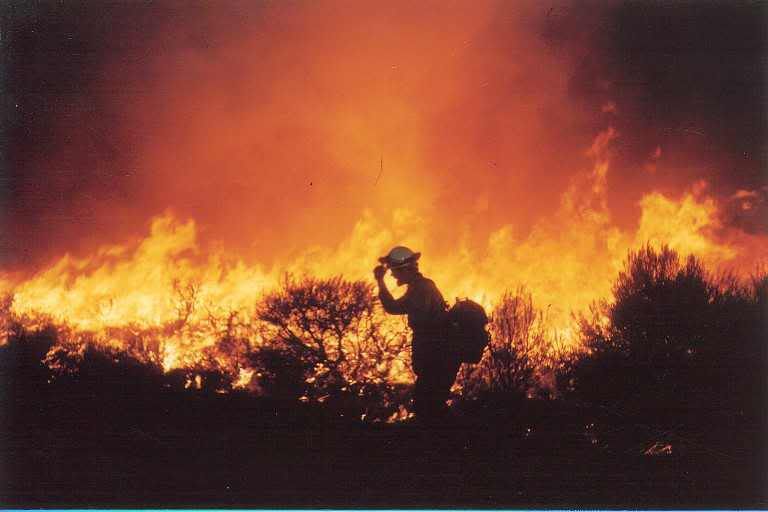 51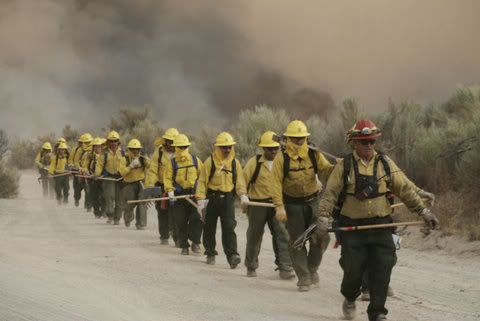 Brian Litt
Cutting handlines down to the soil and clearing shallow trenches across fields and mountainsides is still the backbone of any wildfire suppression. Hardworking crews like ours still clear firelines using basic hand tools – saws, shovels, Pulaskis and Mcleods. Muscle, sweat and persistence are still the most important components of fighting a wildfire. It's not a scientific process. Every fire is unpredictable and crews make individual descisions on the fireline.
EXCERPT FROM ONE FOOT IN THE BLACK
First Saw I ever ran was my dads old Pioneer P-6o-somthin' as a kid.
First saw I ever ran on the Line was a Husky 272 XP with a full wrap handle and a 36″ bar,
The best saw I ever ran on the Line was a Stihl 046 Magnum with a 32″ bar (M.Root)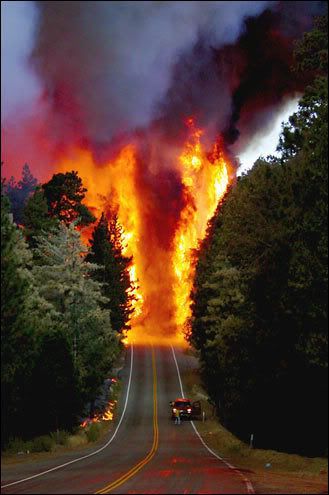 58
59
60
63
.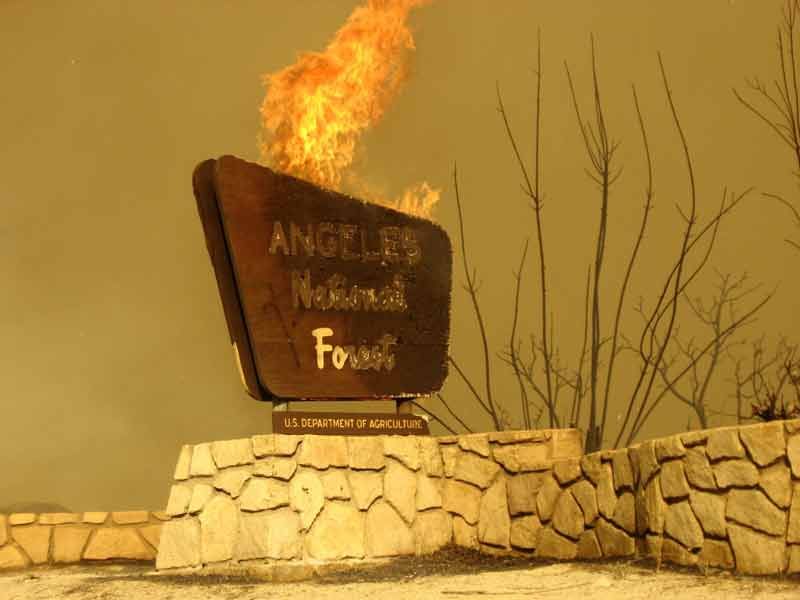 64
DID SOMEONE SAY SOMETHING ABOUT A FOREST FIRE????
.
AUSTRALIAN BUSH FIRES
"Just trawling through the pics. . The photo looks like the Kinglake area, the whole town was destroyed in this fire. If you look close at the right hand rear of some of the vehicles you will see a little yellow cone on the roof – that's bad news and been left for the forensic teams. We are in the process of a Royal Commission over here into the fires (great name for a witch hunt). We have just lost our chief officer for the state over this as well as many members that saw things they should never have. We will survive though."
.

69
.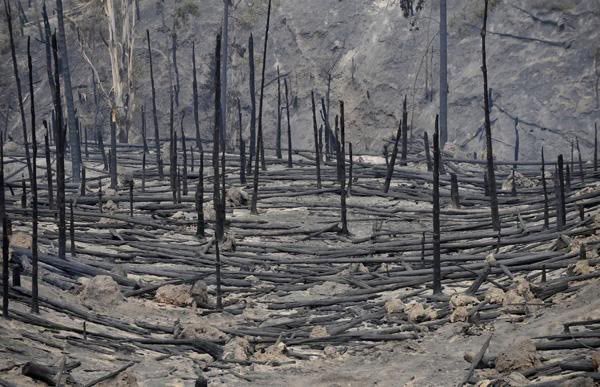 70
.

71
In 2009, the largest fire in the history of Los Angeles County consumed 170,000 acres, and cost almost $100 million in firefighting costs
.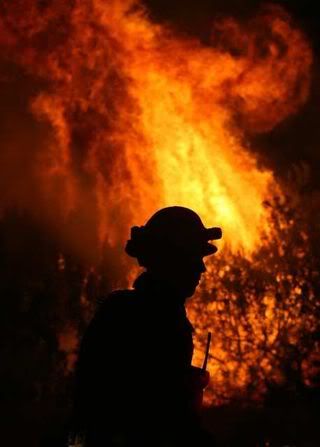 84
.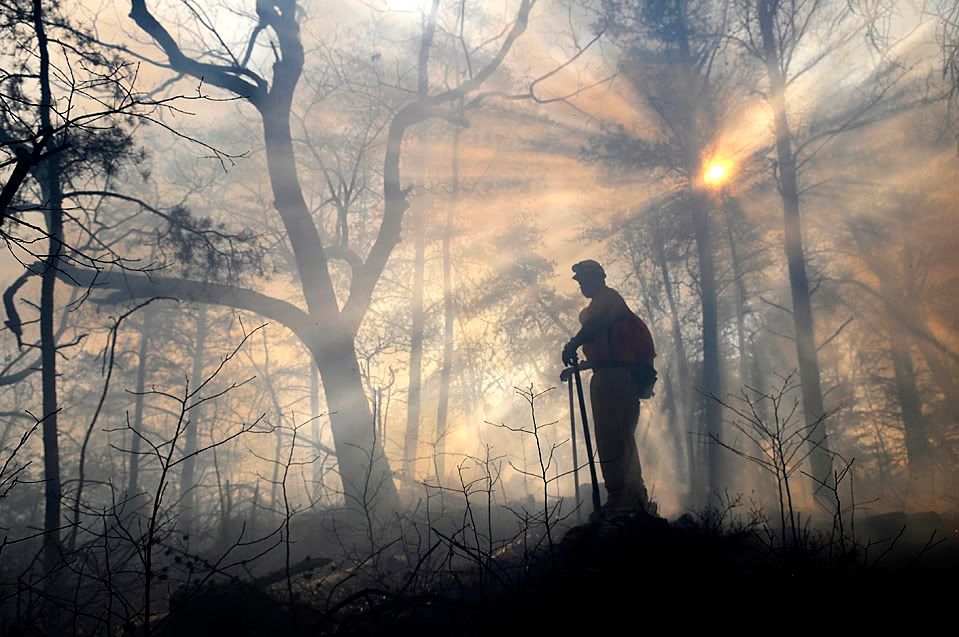 89
.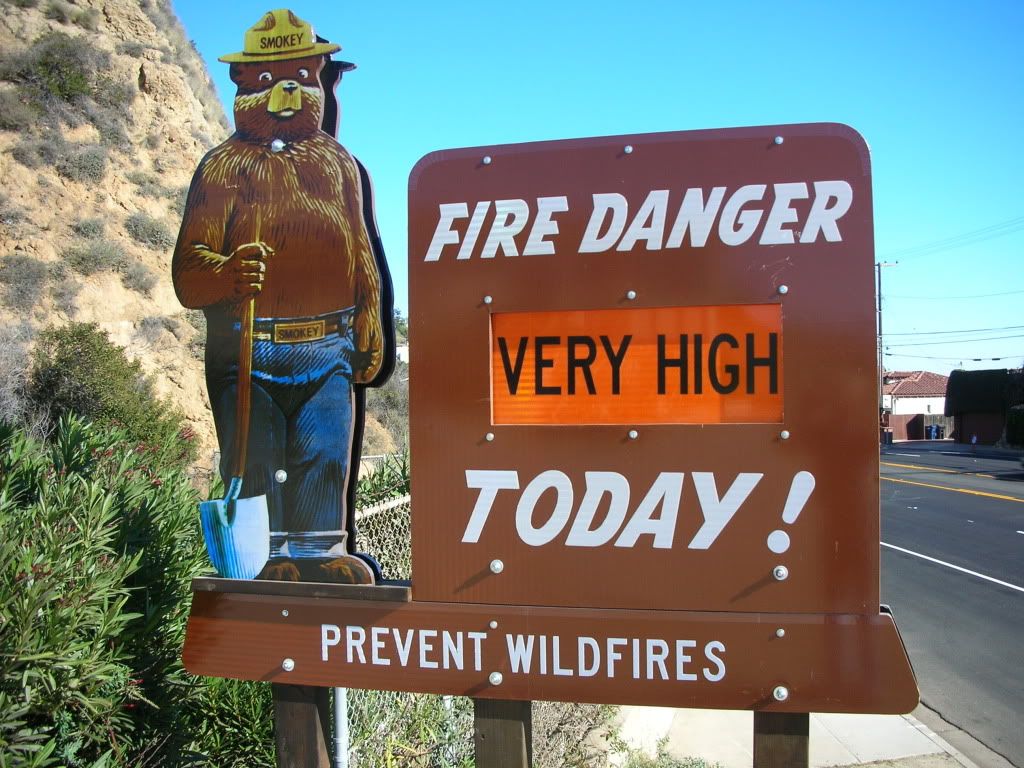 90
.
After years of promoting his book, Kurt was happy to learn that even the meanest, toughest firefighter could curl up with One Foot In The Black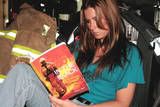 90
*****************************************************************************
THANKS FOR LOOKING AT THESE PICTURES AND WORDS. IF YOU WANT TO SEND ME A PICTURE OR SOME WORDS SEND IT TO Kurt@OneFootInTheBlack.com